HOME PHOTOS TRIPS LINKS CONTACT
Italy 1999: Postcard 6 - The week at work & how the web site is produced
MONDAY 7/6/99 WORK in BOLOGNA
I was picked up from the hotel in the morning and driven to the office a short distance away. I met a few people that I had met previously, and sat down for training on some of the new products. There was no formal training course on this week, and I just sat down with various people who were concerned with each product.
Everyone goes to lunch at the same time to the company canteen. There is usually a choice of two pastas, 2 main meats, together with vegetables and salad. If I worked here, I would hardly need to cook at home!
WEDNESDAY 9/6/99 WORK in BOLOGNA
Today after a week and a half of good eating in Italy, I had to wear my 'fat' pants to work, which I had brought along anticipating such a requirement. I had a lighter lunch today, skipping on the main. Dinner was lighter too, orange juice and a toasted ham and cheese sandwich at the bar - no alcohol.
THURSDAY 10/6/99 WORK and DINNER OUT
As I thought I might go out tonight, I had a light brekky and medium lunch. After lunch I had a cappuccino at the local coffee shop with a few of the guys from work. The coffee was Italian style - good but quite strong.
Three of us went into Bologna for dinner to a small restaurant hidden in the outer part of town. We ploughed through a number of courses including anti pasto, 3 mixed pastas, various sliced pork meats with fried bread, and lemon sorbet, which arrived in a glass with a straw. It was all very good eating; it is much better when you have someone with local knowledge and language for such occasions. After the meal a bottle of Grappa was placed on the table. For those that don't know this is Italian 'fire water' - a very strong spirit. I suggested that if they placed the bottle on the table in Australia, they would probably get it back empty, however we only had a small glass each.
FRIDAY 11/6/99
It was a much cooler and overcast day with some drizzly rain. I had final talks with various people at work, and said goodbye for another year or two.
Back at the hotel I typed up this web page and packed up ready for the move to Mogliano Veneto tomorrow morning.

HOW THE PAGE WAS PRODUCED (THE TECH STUFF)
Equipment:
Teco ARA Laptop - Pentium 120 MHz, 16MB, 800x600, 2GB, CD-ROM
Banksia PCCARD 28.8 PCMCIA Modem + cable and double adaptor + joiner
Canon A5 Digital Camera 1024x768x24, 32MB Compact Flash

To put the pages together I typed up the story separately in Word and saved as a text file, organised the pictures with Thumbsplus, and edited the final HTML with Notepad. The page was then viewed with IE4 to check it.
I used AOL as the ISP during the trip because they have local numbers in both Venice and Bologna. I joined for free with 100 free hours, but the overseas access is $8.50 an hour. Not cheap, but not bad considering, and much less than calling back to Australia.
The digital camera is doing a good job. The features that led me to choose this model include the metal case, normal viewfinder as well as LCD screen, XGA resolution of 1024x768, large included memory card of 8MB, and included battery and charger. I also purchased the PCMCIA adaptor for the memory card and a case. Since then I also obtained a 32MB card. This card will store 150 or so pictures in hi-res mode. The pictures are saved in standard PC JPEG format. To get the pictures into the laptop, the memory card is inserted into the PCMCIA adaptor and inserted into the laptop (see pic below). The files are then just copied over from the new 'drive' using explorer.
Pictures
(Small Pictures Only)
1. Self portrait of digital camera taken in mirror and then reversed
2. Digital Camera Card Adaptor
3. Laptop in hotel room displaying web page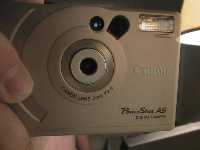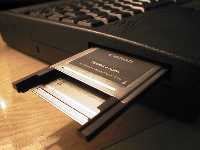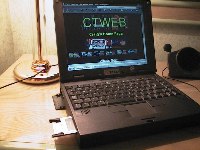 ---