<

HOME PHOTOS TRIPS LINKS CONTACT

France and Italy 2001
---
Email 1: 6/2/01 Cannes - Trip over, and first day in Cannes.
Sunday 4/2/01
Well, here I am again. Sitting on an A340-300 cruising above the Mediterranean on a flight to Rome. I have been on this leg of the flight for 12 hours or more so far, and there is another hour to go… From Rome I change to a smaller plane to Nice, France. From there it is a bus or taxi to Cannes, for our company sales conference. The flight has been good so far, just had breakfast, and the flight is smooth. The flight from Melbourne was better however on a new 747-400.
I will be in Cannes for the week, and then go up to Paris for the weekend. Monday is an early flight from Paris to Bologna, Italy. I have a week of training and meetings at the company head office. The next weekend I have in Rome, then to Singapore for 3 Days of holiday, and get back to Melbourne the following Saturday morning.
I am looking forward to the food in Italy. The weather will be cold, but hopefully not too bad. Cannes and Rome should be OK, but Paris will be cold I think.
I wont be able to update the web site along the way at this stage, but I am not sure how I will go.
Tuesday 6/2/01
Arrived around mid-day in Cannes. Checked in and had a walk along the beach. The weather was cool, but not freezing. Some of the locals looked at me strange as I walked by in a short sleeve shirt... they tightened up their scarves and big coats.
Today we walked as a group out for breakfast, and then tramped around town. We walked the back lanes up to the old church on the hill. On the way back I sampled some French pasty and confectionery, which was excellent. Lunch was at a small coffee shop, and I shared a baguette with brie with one of the other guys.
Tonight is the start of the official conference, with welcome drinks at the bar, and then dinner at a local restaurant.
Hope all is well where you are, and talk to you all again soon.
Craig
Email 2: 12/2/01 Bologna - Cannes, Paris, trip to Italy.
Email 3: 20/2/01 Flying to Singapore - Bologna, Rome, flight to Singapore.
Back to France and Italy 2001 Trip
Pictures
1. Cannes
2. Carlton Intercontinental Hotel, Cannes
Click on the pictures for a larger image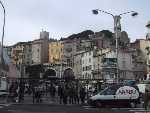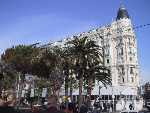 ---